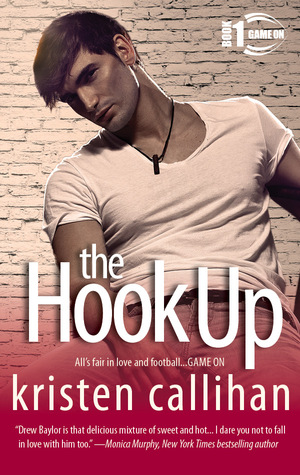 Kristen thank you for giving me a book that kidnapped me for hours and made me yearn and ache like I was living right along with the people you created. Drew and Anna were so explosive and this story was so emotional in unbelievable ways. I stayed up past midnight reading this book. The saying one more chapter was my mantra over and over. I didn't want to miss one thing Drew would say and every page I'd hopefully see Anna learn a little bit more of the truth in side of herself. I have imprints in the palms of my hands for at times I gripped my kindle in a death hold. I wanted to scream at times and then I cried like a baby at others. The loves scenes were not only hot they were SCORCHING. Like singe your freaking eye brows off HOT.
Drew Baylor has to be the #1 Romantic lead character of 2014. I am the #1BattleBaylorFan. I am just in complete and utter splendid fantastic hopeless lust and heart warming LOVE over this guy.
His words, his devotion and his charm. In Anna's words he is described best.
Holy hell, he's potent. Heat and vitality come off him in waves. I think I sway a bit.
As a reading addict I realize that I am secretly always looking for that next book that captures my heart in a way that takes my attention away from all the things that are going on around me.
When life steps in like jobs and kids and family ..that book will be this insidious thing in the back of my mind that is right there like a whisper, like a breath in my ear and a kiss on my neck. Telling me ..open me, read a page. I'm here waiting.
Well, The Hook Up was that Book!! The one that wouldn't shut up ..I couldn't stop thinking about it.
The Premise:
The rules: no kissing on the mouth, no staying the night, no telling anyone, and above all… No falling in love.
Sounds light? maybe dirty? A little fun? ..oh my gosh it's so much more!!
Don't look at this book and think that it's just light and it's just fun. OH I laughed. It will be that and more. When you open this book I want you to be prepared to meet two people that will affect you like I can't even explain.
Drew Baylor has undeniably left an echo of himself in my heart and in my mind ..I hear his words still.
I feel his laughter and still I remember how I cried for him and I smiled with him. I remember when Anna realized the truth of all that she had and I remember how she was strong when she needed to be. When they connected it wasn't just on a sexual level although that may have been their beginning. IT was on a cellular level that caused my heart to skip a beat and my breath to catch every time.
I remember how angry I was at a point while reading that I thought I could not stop crying. I wanted to protect Drew with everything in me and then shake Anna and help her at the same time. Then they'd come together like a puzzle, connecting in perfect harmony.
These two became friends and lovers. It was adorable and sexy all at the same time.
Don't look at this book and think that it's just a new adult light read. This author will never convince me that she didn't lose a very big piece of her heart when she penned these characters. There is no way that Drew Baylor and Anna Jones could be created and have life breathed into them by a human and not have that human walk around with something profoundly changed in them. I for one will never forget them and simply can not wait for Graysons story for not only to be able to see this awesome guy fall in love but also to revisit this memorable couple again. That is my dream.
a Rafflecopter giveaway