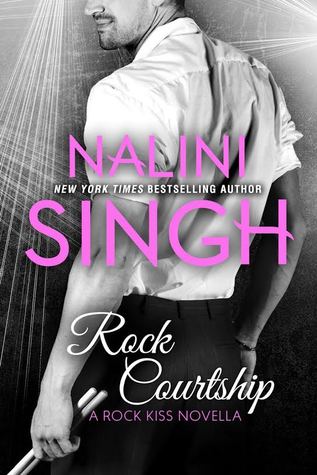 This is the second installment in the sexy thrilling rock and roll series by Nalini Singh and I was already 100% addicted (pun intended) after Fox and Molly's sassy love story.

I was seduced by the sexy as sin Fox in Rock Addiction and totally wanted David and Thea's story as soon as I was finished reading it. Then Rock Courtship is finally here and this is me.
So yea, I'm pretty excited but kinda nervous too because how can the "gentleman of rock" compare to the dirty mouthed alpha male Fox? Well there really wasn't any comparison because these 2 men were totally 100% unique but all MAN all the way.
His gentleman exterior also crossed over into his sweet and tender heart. This guy had the biggest and sweetest heart I've read in a long time. The joy that David felt at simply seeing emotions cross Thea's face or giving her pleasure just took my breath away. He was totally "in to her" in every single way.
His sweetness didn't stop him from being a dirty boy in the bedroom at all. He had this intensity about him that almost seem to vibrate with need and want for Thea. she had no recourse but to give in and to give

back.
Thea was a tough chic and she needed that certain type of guy to be able to see through the glass and steel walls she's put up and find the feminine and romantic woman inside.
David

knocked down those walls

and more. He helped her fight her fears and also together they became an amazing team.
I might have been seduced by Fox but I was swept off my feet by David and I'm totally still swooning.
This is one series that I will be anxiously awaiting each installment hoping for another loyal hero going after the woman he loves.
Amazon